Tammy Caspersen was born in Blackwell, Oklahoma and currently resides in Pensacola, Florida with her husband Neal and their companion Chief.  She has always done some sort of art since she was a child and feels like she has finally found her passion in pottery.  She considers herself a whimsical potter making all realms of pottery including functional pieces, Raku, woodfired pottery, and sculpture work.  She has studied under two master potters for the past 6 years Larry Manning and Bill Clover to include Master of Arts instructor Karen Zimmerman.
Tammy shows her pottery in the local art shows and has won awards locally and currently exhibits her artwork at Gulf Island Gallery, Orange Beach, AL and has exhibited artwork at Quayside Gallery in Pensacola and at the Navarre Healing Arts Center, Navarre, FL.
From raw clay to finished product she follows the steps that have been established over the centuries by potters on every continent.  She feels like she has gone back to her roots, Oklahoma, the land where the sky meets the earth, the land of dry clay and dirt that cracks in the heat of the summer.  Her family were farmers and tilled the raw soil and that's where she feels she got her love of playing in the dirt, and she now enjoys expressing it by molding the clay.
Tammy is also a volunteer at the local Pensacola State College in the Arts Department loading kilns for the college students and helping to promote the arts in Pensacola.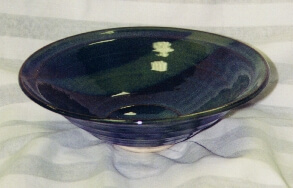 A decade ago, David walked into the Graphic Arts Department of a local college to sign up for a class in watercolor painting.  He made a wrong turn into the pottery class and has never really come out.  He is a potter.  He throws bowls and pots on the wheel and makes his own glazes.  He is a simple potter who makes functional and artistic clay pieces for his own enjoyment and the enjoyment of others.  His favorite pieces to work on are very large bowls and large platters or vases that are distinctive in appearance.
David also creates masks of unusual design and look.  They are fired to high temperature in oxidation (kiln) or by using Paul Soldner's Raku method of fire and pit-smoking to create uniquely vivid color and contrast.
David has studied with some of the greats of the pottery world.  He has taken workshops and classes from Jack Troy, Val Cushing, Paul Soldner, Ron Meyers, Richard Zakin, Stephen Hill and Ken Ferguson.
He doesn't try to explain his work in terms of some deep inner feeling.  Rather, he enjoys the creation of something that has beauty and that others can capture a sense of enjoyment from by holding it in their hands.  Or, they can simply know that David's vision of art and color has been passed, through clay, from his hands…to theirs.
David is an award winning artist, who has presented his work throughout the Gulf Coast states.  He has exhibited in art shows, galleries and pottery workshops.  He displays his work at the Blue Morning Gallery.
Email Susan Woodson
I was born in Key West, moved around a lot till I ended up in Pensacola. I'm the oldest of 7 artistic siblings. Married to Dave, a professor at Pensacola State College.
I tried other ways to earn a living, but always came back to art. I'm mainly self taught. I've learned to airbrushed, paint murals & furniture. My newest creative outlet is pottery.
Other interests are organic gardening, going to the farmer's market, kayaking on the river & horsing around with my new pup "Buster"