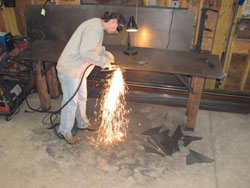 Born in Chicago, raised in Atlanta, Amy moved to the slow-paced Pensacola village under protest 35 years ago.
Over time, both Pensacola and Amy have grown into their own. She now claims the City of Pensacola with pride and celebrates it through
the eyes of a working artist.
Metal fabrication has been her passion for 15 years and continues to challenge her imagination and abilities.
Now retired from traveling to festivals she is proud to show work at Blue Morning Gallery and welcomes commission opportunities.