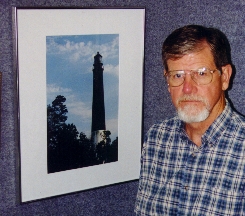 Gordon, a native of the beautiful Finger Lake Region of upstate New York, has called Pensacola, Florida his home for over twenty-five years. His interest in photography goes back to his boyhood when his Mother let him take pictures at family reunions with her Kodak No. 2 Brownie camera. His interest in stained glass started around 1980 in the Washington, D.C. area, where he took classes in stained glass production. Both artistic endeavors require application of similar skills. Gordon focuses on the quality of composition, balance and color throughout his work. His photographs capture common subjects in an uncommon composition.
The technical knowledge and skills coupled with a strong appreciation for art and design are reflected in Gordon's ordinal leaded glass productions and photography. The design and construction of ordinal leaded glass projects today is not much different than those of centuries ago. Production of fine glasswork is difficult and time consuming compared to the mass-produced variety. Gordon likes to think there is quality and lasting value to the work done by the hands of a craftsman. Each carefully crafted piece reflects the individual talent and personal touch of the artist. He does accept commission work for stained glass windows and the restoration of antique stained glass pieces.
You can see Gordon's work at the Blue Morning Gallery where he is a founding member.