Blue Morning Gallery, a local art co-operative, opened the doors in 1997 and continues to grow making it a "must visit" destination location for local art.
Nestled in historic Palafox Place in the heart of Downtown Pensacola, you will find all media represented. We offer original works from more than 60 artists including paintings, photography, pottery, woodworking, stained glass and handcrafted pieces ranging from abstract to realistic … whimsical to haunting … small format work to larger pieces.
At Blue Morning Gallery we believe art is a wonderfully personal expression and we're constantly cultivating a creative, comfortable environment for enjoying art.
As an award-winning gallery featuring award-winning artists, we have become both a local favorite and a geographical draw for visitors from across the country. So, whether you're a casual browser or an avid collector, Blue Morning Gallery will keep you coming back for more, time and time again.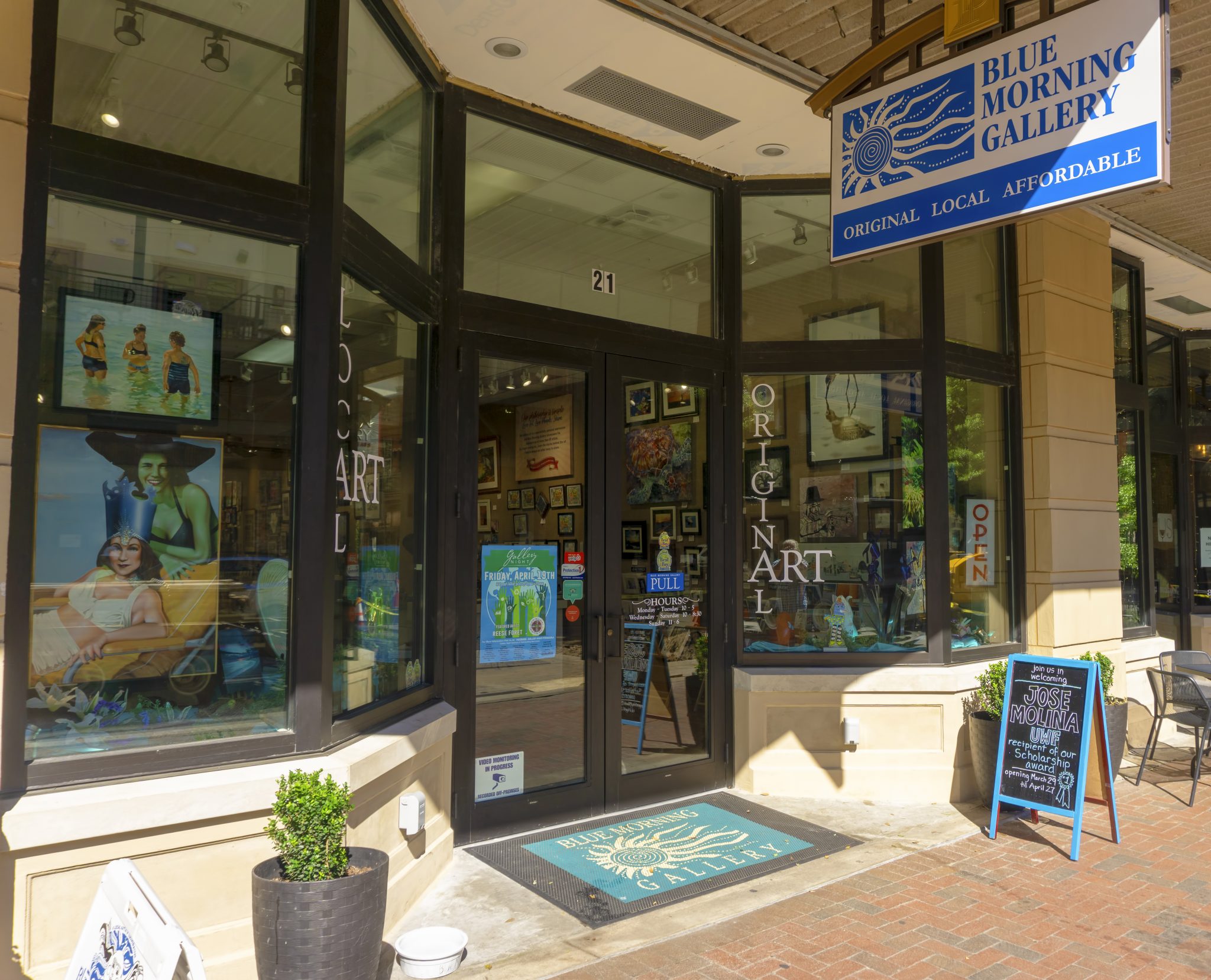 A Prime Location for Enjoying Downtown Events
Blue Morning Gallery is one of the most active participants in downtown Pensacola events.
For example, we are always at the center of a fun time including public art projects during monthly Gallery Nights. We invite you to join us for a variety of Pop-Up events held throughout the year and to see us each Saturday at the local Palafox Market where vendors and entertainers gather to share their talents and wares with the community. Our Gallery at 21 S. Palafox Place is within walking distance of the many restaurants, parks, and all the wonderful charm that can be found in Downtown Pensacola.
Love art.
Love People. Share.
So, you may get that our philosophy is simple at Blue Morning Gallery. Love Art. Love People. Share. There's always an artist working to share a story behind the art, providing insight that changes art to "heart." And because we, the artists, are the gallery, you can always count on friendly, excellent customer service, too. Visit us today and you'll become a Morning person, guaranteed.
Gallery Hours