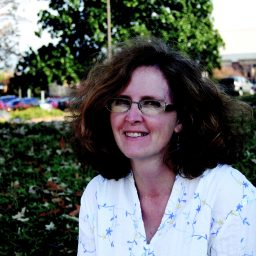 A Kentucky native, Brenda Wood's fascination with gourds began in 1998 after her husband, Wes, grew gourds in their Alabama garden. With two degrees in agriculture, it seems logical that her art canvas would be an agricultural product. The many shapes and sizes of gourds are what draws her to them. Since each gourd is unique by nature, and each gourd creation is painted or wood-burned with its own special design, no two pieces are ever the same. With gourds, you are only limited by your imagination.
She has taught "Painted Gourd" classes in Alabama and Georgia, written gourd growing guides for various publications, and has received Honorable Mention for some of her gourd art in recent shows in Florida. Her painted gourds have been sold in galleries in Alabama, South Carolina, and Florida. Many of her pieces are in private collections throughout the U.S. and abroad.
Wood resides on Blackwater Bay in Florida with her husband and teenage son where they enjoy all things water-related. She is currently Adjunct Faculty at Pensacola State College where she teaches Botany.