Dick has been turning wood for thirty-five years. He makes traditional and segmented bowls at his Gulf Breeze studio. His turnings are both utilitarian as well as beautiful.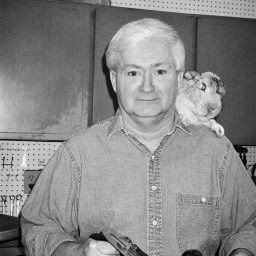 Besides his usual turnings: bowls, vases, hollow forms and finial boxes, Dick makes a line of designer writing pens. Crafted from gold and exotic woods, these pens were featured in this year's Pensacola Today magazines' Wedding Edition as suitable entourage gifts.
Recently, he has begun to experiment with coloring his woodturnings. Using aniline and alcohol dyes, acrylic as well as iridescent paints, the turnings are finished with a high gloss lacquer topcoat.
Good turn deserves another!