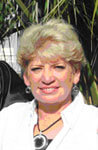 Elaine Woodward enjoys working in several media including watercolor, pastels, oils, pencil, and pen and ink. Her favorite subjects include animals, flowers, beach scenes, and people.
Elaine, originally from Cincinnati, Ohio, began painting with local artist, Don Lewis, at the age of 12 and continued with him until entering college. She attended Bowling Green State University in Bowling Green, Ohio, graduating with a Bachelor of Fine Arts Degree with a specialty in painting. Elaine was employed as a technical illustrator for General Electric Aircraft Engine Group in Evendale, Ohio for six years where she enhanced her skills and interest in pen and ink.
In 1994 Elaine and her family relocated to Pace, Florida, and became involved with the area schools her sons were attending. She designed the first "Wild About Learning" t-shirt for Dixon Intermediate School and later designed shirts for several sports teams at Pace High School. Elaine created three large canvases in acrylics (9' tall and a total of 24' wide) and utilizing the school's new logo, painted each canvas a different theme (air, sea, and land animals). She later painted an 8' x 12' oil of "The Patriot" at Pace High School and murals in the teacher's lounge. For a few years, Elaine painted artwork on walls of Parade homes for a builder in Pace and various other homes as well.
After meeting a visiting author at Dixon Intermediate School, Elaine began an 8-year period of illustrating children's books. During that time she illustrated 50 animal books (early readers) using pastels and a 10-book series (primary age) using watercolor/pen & ink.
In 2001 Elaine began teaching art classes at Creative Art in Pace. Even though Creative Art is no longer in existence, she still continues teaching a ladies' class and will soon be teaching a pastel class at the Dragonfly Gallery where she is also a member.