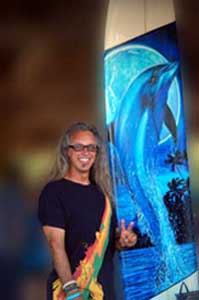 Retiring military parents brought his family to Pensacola in the early '70s. Arriving at Pensacola Beach, he began a 40-year avid love for surfing. Working with various surfboard lines designing artwork, he has traveled from the east to west coast resettling in Pensacola in 2009.
As a 10-year-old enterprising young artist, his career began with a table, chair, permanent ink markers and a sign advertising "custom artwork." Soon, local neighborhood kids were lining up with white t-shirts. And so it began, a lifelong love of art in all forms. Self-taught, he draws from an inner source in creating his art.
His work ventures into a variety of media: fabric and textile paintings, automotive/motorcycle custom artwork, acrylics, airbrushed surfboards, etc. The recent addition of "Posha Pens" has expanded all artwork to new depths in their detail.
Transitioning to fine artworks, he utilizes "art-boards," a non-rideable surfboard used as a fine art piece. Expanding even further, he will soon present glassworks and word imagery on fiberglass pieces.