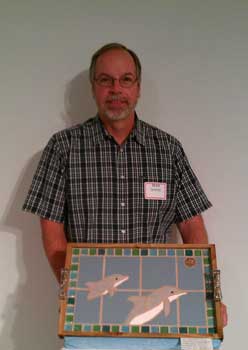 Mark's unique art consisting of tile and wood has been developed over several years. One of only a handful of artist working in this medium, his art is recognizable by the precision cuts and spacing of tile in his wall hangings, mirrors, clocks, and tables. Each original piece takes between 10 and 15 hours to create over a period of 7 to 10 days due to various drying times of stain, adhesives, polyurethane, grout, and sealant.
A native of Kent, Ohio Mark enlisted in the Navy flying as an Aircrewman on the P-3 Orion aircraft venturing to over 50 countries. He earned a commission in 1985 and circumnavigated the globe the following year on the USS Kitty Hawk, CV-63. He retired as a Commander following 33 years of service in August 2005. After retirement, Mark and his wife Anita (along with friends and family) built an 800 sq. ft. studio over the course of a year and started his tile art business "Mark of Distinction" in June 2007.
Mark and Anita have resided in Pace, Florida since 1996. He has a Masters degree in counseling and psychology from Troy University. Mark is on the Board of Directors for the Blue Morning Art Gallery and the Miracle Strip Corvette Club. He is also on the advisory board for the University of West Florida Catholic Campus Ministries and an American Cancer Society volunteer driver for the Road to Recovery Program.  
Mark of Distinction, handcrafted tile art, see at http://www.bluemorninggallery.com/portfolio/markschmitt/
Commission work considered.